Body temperature Scanner
UTi165K intelligent Infrared body thermal screening device is a non-contact temperature measurement that avoids cross-infection caused by close contact during temperature measuring. It is able to scan large areas quickly and instantaneously. Measurement can be carried out for many moving objects. equipped with an LCD monitor on the device makes it portable as well.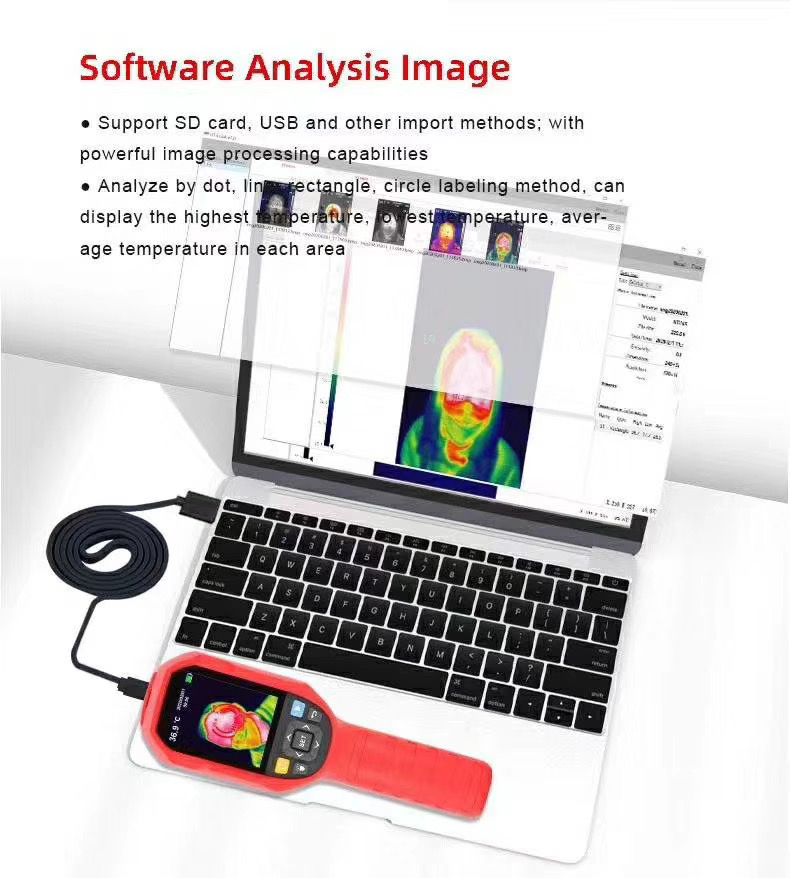 UTi165K Body temperature scanner testing system can detect fever bodies conveniently. It can be installed in schools, factories, office buildings, stations, apartments, and other public places for quick temperature screening, convenient and quick.
Software Alert
When the maximum temperature exceeds or equals to the alert threshold.
Specifications
| | |
| --- | --- |
| Sensor | UFPA |
| Temperature rage | 30˚C~45˚C |
| Measurement Resolution | 0.1˚C |
| Accurance | ±0.5˚C(at 25˚C ambient temperature) |
| Optimal measuring distance | 1 meter |
| Response time | ≤500ms |
| IR resolution | 19,200 (160×120) |
| Pixel size | 12μm |
| Color palette | Iron, Rainbow, White Hot, Red Hot, Black Hot, Lava, Rainbow HC |
| Infrared spectral band | 8μm~14μm |
| Field of view (FOV) | 56°(H) × 42°(V) |
| Spatial resolution (IFOV) | 6mrad |
| Thermal sensitivity (NETD) | <50mK |
| Frame rate | <9Hz |
| Temperature measurent display | Center temperature measurement and high temperature tracking (default) |
| Image format | BMP |
| Image mode | Thermal, digital(visible light image), Fushion. |
| Point termerature measurement | In addition to the center point, 3 points can be added. |
| Certifications | (EN 61326-1:2013, EN 61326-2-2:2013, EN 61326-2-3)-RoHS |
| Visual light camera | YES |
| Visual light resolution | 640×480 pixels |
| Image blending ratio | 0% (pure visual light image), 25%, 50%, 75%, and 100% (pure infrared image) |
| PC software | YES |
| Real-time image transmission | YES (Real-time image projection through PC software) |
| Data transmission | Type-C USB interface |
| Product size (L x W x H) | 236mm x 75.5mm x 86mm |
| Display type | 2.8″ TFT LCD |
| Display resolution | 320×240 pixels |
| Battery | 3.7V/5000mAh rechargeable Li-ion battery |
| Auto power off | 5 minutes, 10 minutes, 30 minutes), off (default: 30 minutes) |
| Battery life | ≧6 hours |
| Charging time | ≦5 hours |
| Charging voltage/current | 5V/2A |
| Image storage | Micro SD card |
| Transportation/Storage environment | -20˚C~60˚C (-4˚F~140˚F), <85% RH (non-condensing) |
| Operating environment | 15˚C~30˚C (59˚F~86˚F), <85% RH (non-condensing) |
| Operating altitude | ≦2000m |
| Srandard accessories | User manual, USB cable, 16GB Micro SD card |
See Also:
Face & Palm Verification and Fever Detection Terminal