Face & Palm Verification and Fever Detection Terminal
The ProFace X series with The Contactless recognition technology and the new functions namely fever detection and masked individual identification, Make The X series also help eliminate hygiene concerns.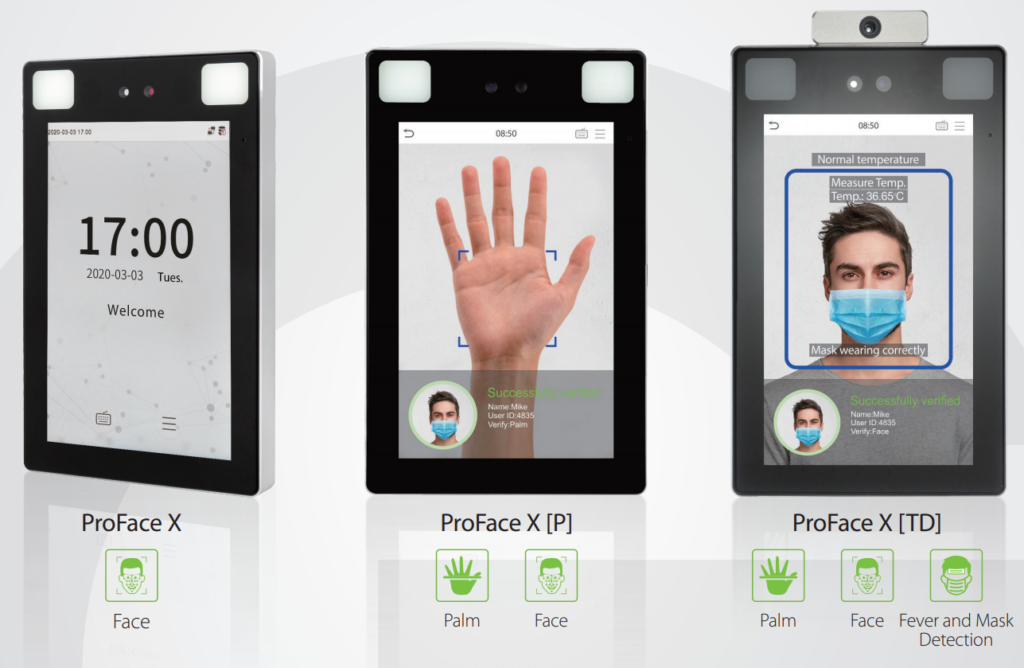 ProFace X (Face), ProFace X [P] (Palm & Face), and ProFace X [TD] (Fever and Mask Detection)
In addition, the 3-in-1 palm recognition (Palm Shape, Palm Print and Palm Vein) is performed in 0.35 sec per hand; the palm data acquired will be compared with a maximum of 5,000 palm templates.
During outbreaks of infectious and contagious diseases, recognition terminals with fever and mask detection should be a perfect choice. which is extremely helpful in fighting the spread of disease outbreaks especially in hospitals, factories, schools, commercial buildings, stations, and other public areas.
Configuration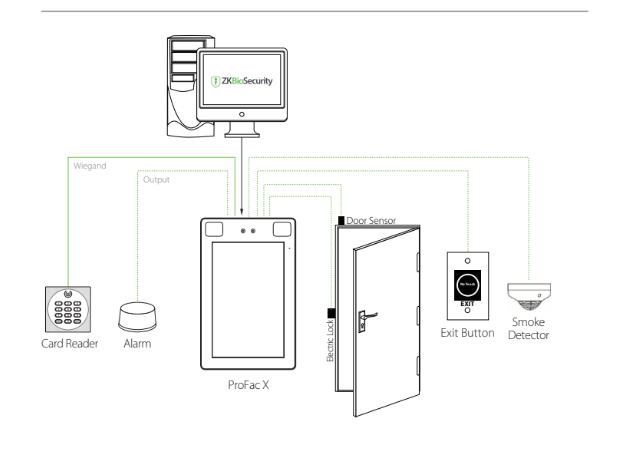 Dimensions (mm)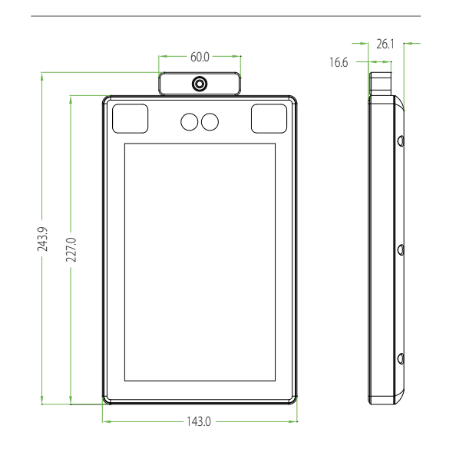 Features
Ultra-large capacity of facial templates for 1:N verification: 30,000 (standard); max. 50,000 (optional)
Huge capacity of palm templates; 1:N – 5,000 palm templates
Anti-spoofing algorithm against print attack (laser, color and B/W photos), videos attack, and 3D mask attack
Intelligent energy-saving design; precisely evaluation of the distance (up to 2.5m (8.2ft)) between the user and the device by a microwave detector before waking up the recognition terminal.
2MP starlight CMOS sensor camera with WDR function, which enables the terminal to recognize faces under extreme lighting conditions (0.5 lux – 50,000 lux)
8" touch screen with 400 lux, which offers high visibility under strong and direct light
IP68 dust-proof and waterproof standard & IK04 protection standard
Wide range of working temperature (-30 ~ 60°C; -22 ~ 140°F)
Body temperature detection: measurement deviation of ±0.3°C; measurement distance of 30 – 50cm
Mask detection; facial verification available with masks
See Also:
Body temperature Scanner UTi165K