iBS03TP Sensor Beacon
iBS03TP Waterproof Sensor Beacon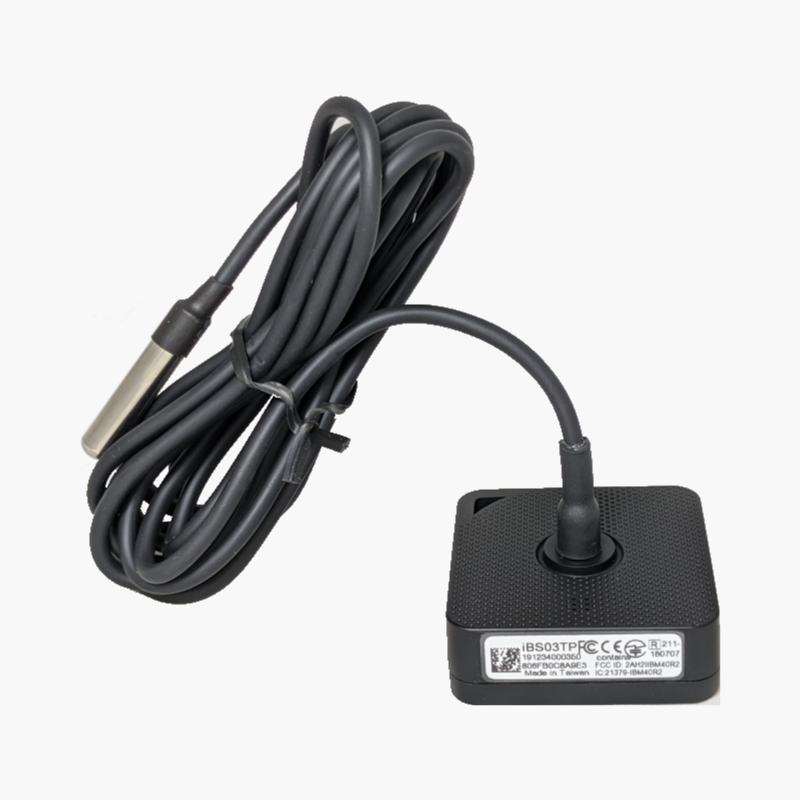 iBS03TP is an IP67 waterproof BLE beacon with main unit temperature sensor and probe temperature sensor. The BLE is a very low power 2.4G radio that can transmit the beacon information efficiently. The typical beacon battery life is 3.2 year in default settings.
iBS03TP is a rugged design for working in tough condition. The probe temperature sensor is 2M long and it is suitable to be used in a RF shielded location(ex:refrigerator,freezer) or monitor temperature in 2 different locations.
Features
General
1
ARM Cortex -M3 32-bit processor
2
Support BLE 4.2 and BLE 5 long range
3
IP67 waterproof
4
2M of drop protection
5
Powered with 1XCR2450 battery
6
Long battery life: close to 3.2 years in typical beacon
setting(30s)
7
Android APP for configuration
8
Power on/off switch(internal)
9
Main unit Size: 43mmx43mmx14.8mm
10
Probe size: Cable length 2M, Probe sensor
30mm*6mm
11
Main unit Operating temperature: -20°C to 70°C
12
Probe Operating temperature: -50°C to 150°C
13
Certificate:FCC/IC/TELEC /CE(pending).
Sensor
1
Main unit temperature sensor for environment
monitoring
2
Probe temperature sensor for environment
monitoring
RF
| | |
| --- | --- |
| 1 | 2.4GHz frequency band |
| 2 | Maximum transmit power +5dB |
| 3 | Receiver sensitivity: -97 dBm @1Mbps, 0.1% BER |
| 4 | On board PCB antenna |
| 5 | 100M range in open space |
Temperature sensor position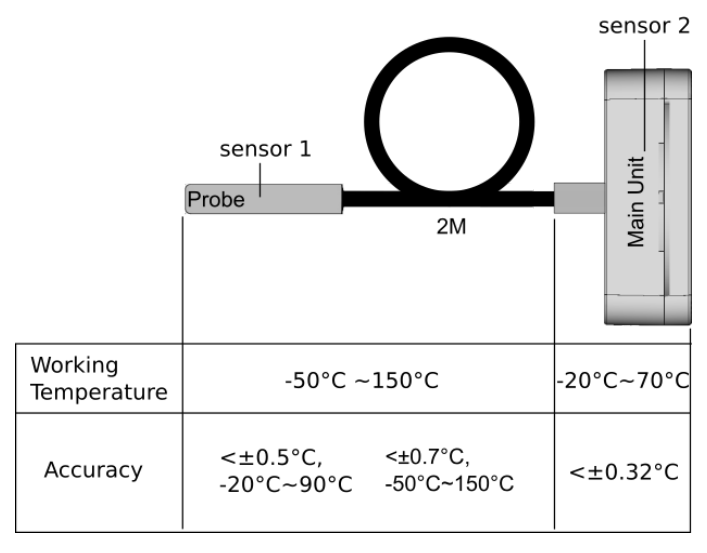 Applications
Storage room temperature monitoring
Refrigerator temperature monitoring
Freezer temperature monitoring
Factory temperature monitoring
Sensor network
Industrial automation
Medical
Block Diagram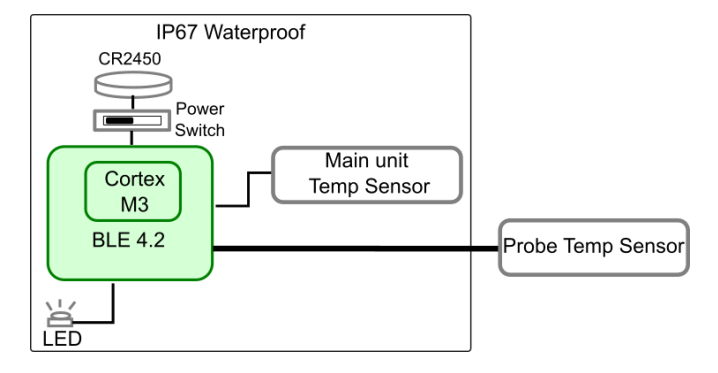 Typical Usage
Beacon is always broadcasting message including status and sensor data. User can use APP to receive the message. We also have the beacon gateway iGS01S(WiFi) or iGS02E(Ethernet) can be used as a receiver.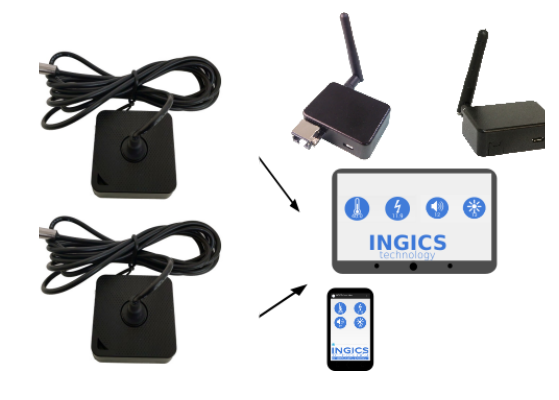 Use iGS01S or iGS02E beacon gateway to receive the beacon message and send to cloud server. User can access and manage the data anytime anywhere.