Portable Water Seepage Detection System (AI-on-the-Edge Non-contact)
OBJECTIVE:
The objective of this project is to design and develop a portable, non-contact, non-destructive imaging-based scanning device that assists inspectors in identifying water seepage areas as well as improving the traceability of inspection records.
INNOVATION:
| | |
| --- | --- |
| 1 | Multi-spectral sensing capability involving both LWIR thermal and RGB visible light spectrum |
| 2 | AI algorithms to distinguish presence of water from other physical artefacts like glue, metal, plastics, paint, etc automatically and under different ambient environment |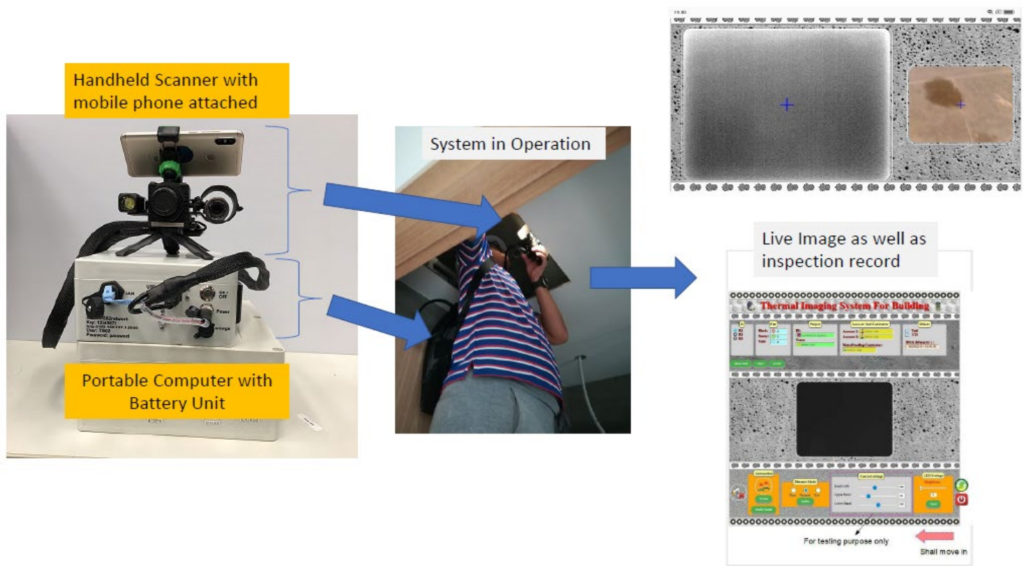 BENEFITS:
| | |
| --- | --- |
| 1 | Able to detect water on surfaces of concrete and plastic material at a distance of up to 3m. This is extremely helpful when the presence of water is unable to be verified by visual or touch. |
| 2 | Does not require to come into contact with the inspecting surface |
| 3 | Flexibility for providing visual access to corners in enclosed spaces |
| 4 | Comes with automatic data logging for reference. |
APPLICATIONS:
The system can be used to detect water seepage in the built environment. "Built environment" refers to buildings, structures and infrastructures (both underground and above ground), and tunnels in the surroundings that provide the setting for the community's activities. Users could be inspection service providers, building contractors, inspection authority, etc.